Just TOO GOOD not to use on almost everything you eat!
RAKS Picnics, Patios and More All Food Seasoning
 is a truly unique combination of spices that will enhance your favorite meats, fish and vegetables. 
RAKS
 has developed this seasoning with the Backyard Barbecue in mind, but it's just too good not to use on almost everything you eat! Now you can enjoy 
RAKS Picnics, Patios & More All Food Seasoning
 in your home.
AVAILABLE IN 2 SIZES.
The 5 oz. - Try this one just for starters. Our unique blend of spices offers all the great taste you're looking for in a 5 oz. bottle.
The 64 oz. - Can't get enough RAKS Seasoning? We got you covered! The 64 oz. jug will keep your barbecue going all summer long.
Full Details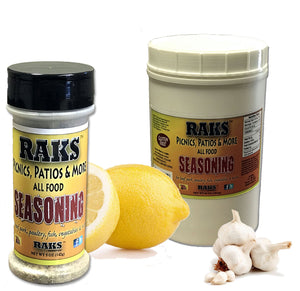 Watch Huntaholics Outdoors RAKS Seasoning review
Home Cookin Hunter - RAKS with Smoked Venison!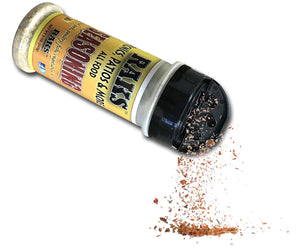 ENHANCE YOUR EATING EXPERIENCE!
Since 2011, we have been creating our unique all-purpose seasoning to help you make your favorite recipes even better! Try RAKS Seasoning on steak, eggs, hash browns, spaghetti, fries and popcorn.
For a tasty twist, add a couple dashes to your bloody mary, red beer, or tomato juice. For the do-it-yourself carnivores, mix 8 oz. RAKS to every 10 lbs. meat for jerky, brats, slim jims and sausage. 
Looking to marinade some steaks? Give both sides a healthy dose of RAKS, cover and let marinade in the fridge for 1-24 hrs, then toss 'em on the fire for a steak that will leave your family and guests begging for more.
RAKS All Food Seasoning is a fat- and gluten-free blend of spices guaranteed to enhance your eating experience.
Buy Some